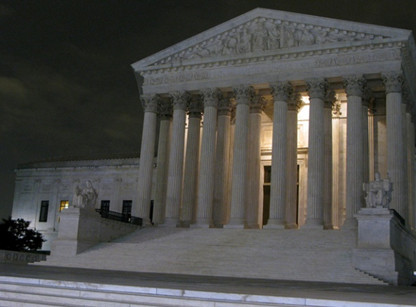 Should consumers whose online privacy has been violated have the right to sue if a data broker sells incorrect information? Does that right include situations where the consumer can't prove exactly what damages have been suffered? Does the fact that a data broker is selling inaccurate information show that the bad information could be used by a buyer to cause damage?
Those are questions before the US Supreme Court, which recently heard arguments in the case of Spokeo v. Robins. Spokeo, an information broker, wants to dodge a potential class action suit over incorrect information in its database.
Robins, a California resident, is suing under the federal Fair Credit Reporting Act, which requires that information about consumers is correct before it is provided to anyone who might use that information to judge a consumer's credit worthiness. At issue in this case is whether a person may bring a lawsuit when any company, including an online data broker like Spokeo, violates a federal privacy law.
In order to sue in a federal court, the victim of inaccurate credit information must have "standing". Part of establishing standing is proof that the victim was harmed by the bad information supplied by the data broker. Robins was unemployed when he originally sued Spokeo in 2010, and argued that inaccurate personal information about him hurt his job prospects. Spokeo countersued, claiming that Robins lacked standing.
The company argued that the case should be dismissed because Robins was unable to prove that the publication of inaccurate personal information in violation of the Fair Credit Reporting Act was a concrete "injury" under Article III of the law. The U.S. Court of Appeals for the Ninth Circuit disagreed, and denied Spokeo's motion to dismiss the case for lack of jurisdiction. Spokeo appealed the decision, and a ruling by the US Supreme Court is expected this summer, probably after June, 2016.
In oral arguments, heard Nov. 3, 2015, the justices appeared divided on the issues. It's a case that's being closely watched by online privacy advocates and Silicon Valley companies, because of its potential to affect many companies doing business online, including industry giants like Google and Facebook.
Why the Accuracy of Online Personal Information Matters
There are dozens of companies that collect and sell our personal information. Even if you think that you have already locked down your online privacy, you are likely to be amazed at what you find is out there – and how much of it is wrong.
To find out how accurate the personal information data brokers are collecting about you is, try a service like InfoEraser that will let you run a free sample check on yourself or someone you know. InfoErasers lets consumers tell the privacy-killing data brokers "no", and manages the process of opting out and staying out of the reports sold by the data aggregators.
A ruling against Spokeo in the Robins case would require many companies to drastically change the way they collect and distribute consumer data. Most court watchers think it's unlikely that the court will take such drastic action in this case. Of course, no one knows what the justices will decide until the court's ruling is issued.
But consumers worried about their online privacy don't have to wait for the court's decision, or any resulting changes in the online business model. Opting out of these databases, using a service like InfoEraser, provides immediate protection which is a better bet than expecting the Supreme Court to take consumers' side against some of America's largest corporations.
Your personal information is valuable to you, and to corporations that want to use it for a range of purposes. Some of the uses can seem relatively benign, like pre-screening people for credit offers. But if the information about you is wrong, it can have a tremendous impact on the interest rates you pay, whether or not you can make a major purchase, and even whether or not you get a job.
There are so many data brokers out there collecting and reselling personal information and they've gathered from so many sources that it's nearly impossible for a consumer to find them all and take the cumbersome steps required to protect themselves. But a company like IdentaLocker, that specializes in helping families protect their online privacy from identity thieves and corporations alike, can provide immediate relief while the courts sort out the rules for the future.
For more information on how to protect your online privacy and personal information from inaccuracies in the databases maintained by data brokers, visit the IdentaLocker website and checkout the InfoEraser service.
Photo credit: The image of the U.S. Supreme Court at night is used under a Creative Commons license from Pixabay.